Meet The Directors – Sam & Tom
We caught up with Sam and Tom, the directors of ST Extreme Cleaning to find out why they love to clean.
What's it like working with your twin? Do you have a twin tingle?
Tom…
It's good because we are both different characters and have different strengths!
Tingle wise not really. We both recently had a nasty spot in the same place on our faces… Does that count?
Sam…
If you had asked me years back if I would have worked with Tom I would have said no. J He went into banking straight from school. Now I have had the chance to work with him, I am loving it! Aghhhhh!
Why did you set up ST Extreme Cleaning?
Tom…
I had recently been made redundant after 19 years in the city and thought it would be nice to have a go at something a little different.
Sam…
As a sole trader I had maxed out on the work I could do and everyone always said to me you should set up your own cleaning business, managing a team.  When Tom and I spoke, we realized we were at the right time in our lives to start something of our own.  Our parents had run their own business for years, so we understood the mechanics and we were ready for the challenge!
You set up your business just before the pandemic? Were you tipped off?
Tom…
No! If I was tipped off I'd have rented pretty much every spare warehouse I could find around the M25 and stocked it full to the brim with PPE.
Sam…
OMG NO WAY! We wouldn't wish this virus on anyone. It's been great helping people get back to work though, knowing they are safe in their work place after we've been there.
What has the cleaning through Covid been like?
Tom…
It meant we were fortunate enough to keep working. I don't think I would have coped too well without anything to do. Even during hard lock down I had things I could do in the background for the company.
Sam…
We were happy we could still work, as being stuck in my house with 2 teenagers would not have been a healthy situation!
What is the most difficult challenge you've faced?
Tom…
Personally, I struggle to move forward with things until I fully understand them or have all pieces of the puzzle in place, but this makes sure I investigate all new equipment and client's needs thoroughly, so I guess it's a positive.
As a company the biggest issue we face is making sure we are found, as once our clients get to see what we do, they keep us.
Sam…
If I had a £ for every builder that said to me 'it's not that much work!' Wrong! It's always messy with thick layers of brick dust, plus you often have to work around them while they are finishing odd jobs, sorry guys! I love it though really, great banter, and great satisfaction when the place is sparkling afterwards.
What do you like about cleaning?
Tom…
The end result! It's satisfying when you can look back and see exactly what you have done!
Sam…
I'm not going to lie I absolutely love cleaning, sad I know! This is great for companies that take us on though, as my standards are extremely high, as suggested in our name 'Extreme Cleaning'.
What's your number one thing that you love to clean?
Tom…
We don't offer it yet… I'd love for us to clean private jets, how cool would that be? I've started the initial investigations, so if anyone wants theirs cleaned, give us a call!
Sam…
I don't have a number one thing to clean, as I like cleaning all things! I suppose I could say the dirtier the better as the result is more rewarding then. What I like about our business is that no day is the same.
Why the push for a Green clean?
Tom…
It's ironic that cleaning with chemicals is harmful to us and the planet, it's ridiculous that cleaning our offices and homes with chemicals does more harm than good. When I met Joe Flannagan of Ingenious Products and he explained some of the science behind probiotics I was instantly hooked. Cleaning without harmful chemicals is not only great for the environment but also us and our team as we don't want to continually inhale fumes from the likes of bleach etc. They also work better and avoid contributing to our Antimicrobial Resistance, so it's a WIN WIN for everyone.
Sam…
To all the cleaners out there, take it from a girl that has used so many cleaning products for years… the ones that smell nice (the stronger the better)… No No No – they are harmful and we need to think differently for ourselves and our planet. How many cleaners have used products where they choke you? Or at the end of cleaning you have a headache from the fumes? Probiotics are game changers!
Some people think that Green products can't do the job like chemicals can, what would you say to them?
Twins talk…
We would say, get yourself onto Ingenious Probiotics https://ingenious-probiotics.com and order some of their products for yourself at home. Trial them for a couple of weeks and then be the judge of it yourself, we think you'll be amazed with the results.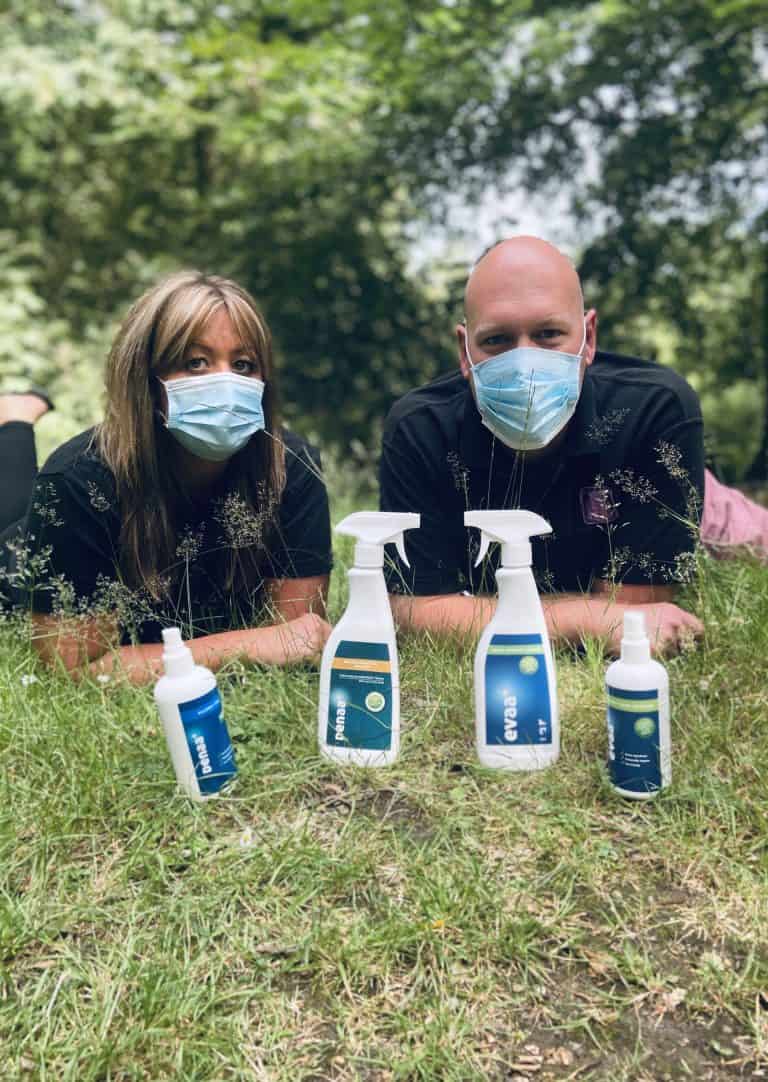 What did you want to be when you were a grown up?
Tom…
Certainly not a banker or a cleaner! My earliest memories are watching a video recording of the Fire Brigade, so I'm going to say Fireman!
Sam…
No way a cleaner, I think my Mum and Dad would have had something to say. A hairdresser maybe. I knew it wasn't for me though as I can't even do a French Plait. What's nice and something positive that has come out of the Covid crisis is that people have begun to respect the job that we do, I've always taken a great deal of pride in my work, but it's nice that others now value our hard work. So for those leaving school now, I hope they will have pride in entering the cleaning sector rather than being embarrassed, as we are part of the key workers that are keeping everyone safe.
What do you like about living in Essex?
Tom…
The abundance of country parks and nature reserves available to my young family. For me though there is no better place on earth (even when the sun isn't shining) than Frinton on Sea. We are fortunate enough that my wife's family own a beach hut so we make regular use of it! Even on a cold winters day there's nothing like walking along the front between Frinton and Walton.
Sam…
I am a full on Essex girl through and through. I was born here and have always lived here, we have some lovely hidden places out here. Plus, I like the fact we are close to London but still have greenery around us.
What made you laugh recently on a job?
Tom…
Sam, always makes me laugh! If you're a builder and like some banter on site then watch out, you will definitely meet your match with Sam.
Sam…
I always laugh, life is too short to be serious. I love turning up on a job and cheering everyone up. It's just my nature.
What made you laugh recently on a job?
Tom…
Catching sight of myself in one of the many mirrors I've had to clean
Sam…
Honest answer (I can't believe I am admitting this) when one of my false nails break. I do take pride in my appearance and it really bothers me when my nails break! Is there hope? LOL
What is the funniest thing you have been asked to do on a job?
Sam…
When I turned up to clean a theater in a hospital and had to wear scrubs to clean! I couldn't take my team of cleaners seriously! It was our first job like that and I didn't expect it.
What is the nicest thing a client has said to you?
Tom…
A property manager said they would only use us now for cleaning communal areas and End of Tenancy cleans. We have a steady stream of work from them and they also do their best to refer us to others too.
Sam…
Really big headed to say this, but I get positive comments weekly about my work. Normally along the lines of "Wow" "Amazing" "How did you do that?" "Thanks so much. I can't believe how clean it is".
Cleaners are normally fastidious naturally, do you have OCD?
Tom…
Nope, I can gladly say I don't. I like my house to be clean and tidy but I'm not obsessive with it. Luckily for me Sam got the pleasure of that gene.
Sam…
OMG yes yes yes! Hold my hand up high to this one. I have major OCD like BAAAD OCD! Serves me well in this business though
If you could pick to clean anywhere in the world where would it be and why?
Tom…
Augusta Golf course 2nd week in April every year.
Sam…
I fancy a beach clean! That way I could lay in the sun and instruct everyone from the sun lounger! As if I could sit still…
Commerical Cleaning is hard graft, with long unsocial hours with little recognition. How do you inspire your team to do those early wake up calls?
Tom…
We try to ensure when doing a clean your working as a team. Sometimes its not possible but we try to have at least 2 people working together on something. We carry a kettle in the van along with tea, coffee and biscuits. If someone is going to graft 8-10 hours for you the least you can do is provide them with a nice drink. Finally, I was taught by my grandad from a very young age that you always treat others the way you wish to be treated yourself. I don't always get it right, but I do truly believe if we ditched everything else and just stuck to that principle the world would be a better place.
Sam…
It's never boring working with me. The banter and laughs is what keeps us going. I think you work better on a full belly. Never, never, let a colleague go hungry, I learnt that very early on from Tom.